COMPLETE SHIPPING INFORMATION
We offer FREE SHIPPING to addresses within the continental U.S.A. ONLY, via FedEx regular ground service, on orders of $200 or more.
Shipping Charges for orders under $200 are: $7.50 for eastern U.S.A. - $10.00 for central and western U.S.A.
WE DO NOT SHIP OUTSIDE THE CONTINENTAL U.S.A.
All orders are subject to a 24 hour verification delay while we confirm your billing information with your financial institution. This is to protect our customers from credit card fraud and identity theft. Also, most orders will be verified with the customer before shipping. This is to protect parents from unauthorized use of a credit card by their children or other family member. As such, a working telephone contact number is required! Orders with invalid phone numbers will be held until order is confirmed.
To help expedite this process, please ensure that the billing address and phone number you have given us matches what is on file with your financial institution.
NOTE: Due to the added expense of shipping very bulky or heavy items, an "Oversize Shipping Fee" will apply to these items. (SEE BELOW)
Some closeouts and specials may require a shipping charge.
Used gear will require a shipping charge.
Shipping outside the continental U.S.A. is not available.
Overnight and two-day air service available for an additional fee.
For shipping time of FedEx Ground Shipments see our Time-In-Transit Map
OVERSIZED SHIPPING INFORMATION
Some items we ship are very bulky or heavy and will incur an "Oversize Shipping Fee".
These items include:
    * All Drum Sets
    * Large Drum Cases and Bags
    * Drum Racks
    * Congas
    * Other Bulky or Heavy Items
"Oversize Shipping Fees" will appear on the Product Details page and the Order Review page.
- Estimated shipping time from our location in North Carolina -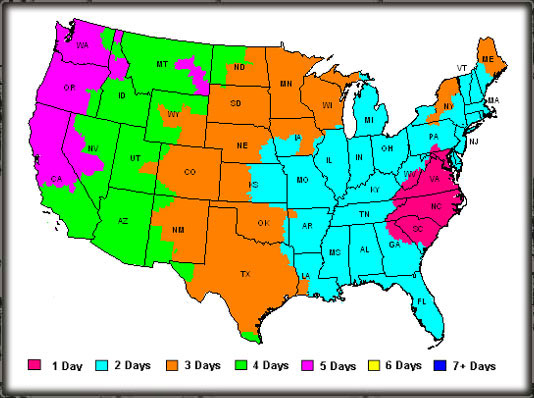 PRODUCT RETURN POLICY
In the unlikely event that you need to return an item purchased from us, the following policies will apply.
Should an item be damaged in shipping, please notify FEDEX immediately. Save all boxes and packing materials.
Items marked as "This Is A Special Order Item" are not returnable except in case of shipping damage and only after FEDEX has inspected the item.
All returns must have an RMA (Return Merchandise Authorization) number clearly marked on the box. Please call Customer Service to obtain an RMA.
No returns after 7 days.